Our team understands your skin care needs.
We specialize in treating each person as an individual. We carefully perform procedures, such as biopsies, based on your personal needs. We want you to trust in our ability to care for you. Skin is our specialty but we do not minimize the emotional impact of your experience. We are a small family business that cares for each of our patients in a unique way ensuring that compassion and empathy are communicated.
Peter T. Demos, MD
Dr. Demos grew up in Hartford, CT. He attended Cornell University for a Bachelor's degree in BioChemistry, then a Master's degree at Penn State and finally Medical School at the University of Connecticut. "Doc" began his residency in Family Practice in Sioux Falls, South Dakota. He made a decision to do an additional residency in Dermatology during his 3rd year in Family Practice. The move was made to begin Dermatology training at the Medical College of Virginia in Richmond.
Doc began his solo practice in Dermatology at 125 Liberty Street in Springfield, MA in 1989.
---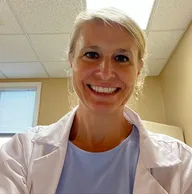 Sage K. Dow, FNP-BC
Sage grew up on both coasts, Oregon and Maine. She is a family nurse practitioner by training, done at Husson University and Sage Graduate School. She trained in dermatology under Dr Demos. She previously practiced Addiction Medicine.
Sage enjoys the family like setting at Demos Dermatology and the relationships she is building with the wonderful patients.
---
Cassandra Ayre, PA-C
Cassie was born and raised in Western Massachusetts. She attended Springfield College for her physician assistant certification. She's very passionate about dermatology and building relationships with her patients. She enjoys spending time with her dog at the park, baking, skiing, and traveling.
---
Jordan Willis, PA-C
Jordan was born in Cape Cod, MA and graduated from the physician's assistant program at Springfield College in Springfield, MA. She's always had a strong interest in dermatology and is passionate about serving patients in our community. In her free time, you can find her spending time with her pup, Remy, and cooking dinner for her family.
---
Harmony Hopkins, FNP-BC
Harmony has lived in Rhode Island, Vermont, Connecticut, Tennessee, and now, Massachusetts. She graduated with her BSN from Tennessee Technological University in 2010 and her MSN from MCPHS University in 2017. She spent her first five years as an NP in primary care until coming to Demos Dermatology.
Harmony is a vegetarian. She enjoys searching Pinterest for new recipes and exploring the area to find new vegetarian restaurants. She spends her free time camping, going to the beach, watching Real Housewives or Dateline, and planning her next vacation.